Taseko Mines Ltd. Rejects Consideration of Aboriginal Spirituality

Hello All Friends of Friends of the Nemaiah Valley; there are recent developments in the New Prosperity Mine saga arising from a letter written by Taseko Mines President, Russell Hallbauer. In this letter, obtained through the Freedom of Information Act, Mr. Hallbauer expresses deep concern in two areas relating to the CEAA Panel hearings.

The first concern is the makeup of the CEAA Panel for the "New Prosperity" Mine project.
Mr. Hallbauer advises that aboriginal groups should be ignored if they request that a Panel member be an aboriginal person, presumably on the basis that such a person is inherently biased. To explain this concern, he cites the presence on the first CEAA Panel of Tahltan mining expert Nalaine Moran.
"We made an application to the original panel asking that the member in question recuse herself on the basis of her prior comments evidencing a reasonable apprehension of bias." (Hallbauer)
After seeking legal counsel on the matter, the panel decided that "counsel concludes that
there is nothing in the materials submitted by Taseko that would suggest to a reasonable person, fully informed of the nature of an environmental assessment review under the Act and the mandate of the Panel, and viewing the matter objectively, would think that Panel member Morin would not be able to fulfill that duty
".
The Panel's duty is to "consider and assess" information brought before it, a task any open minded person can perform fairly regardless of heritage. Why is Taseko still refusing to accept this finding and continuing to suggest that aboriginal input on the Panel is biased and "unfair"?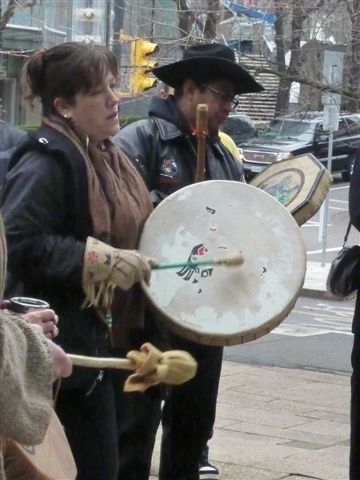 The second complaint is in regard to native spirituality. Mr. Hallbauer objects to any acknowledgment, or even display, of native spirituality. Among others things, he objects to prayers and drumming prior to hearings – even when conducted on reserve lands, as many of the hearings were.
"For example, we believe that it was not appropriate for the panel to begin its hearings with an aboriginal prayer ceremony".
Is Mr. Hallbauer presuming to dictate how First Nations communities conduct, and participate in, processes within their own precincts?
This letter also demonstrates the Taseko wants to limit how the Tsilhqot'in people deliver the message to the Panel.
First, children's voices should not be heard. Mr. Hallbauer objected to the play put on by the children of the Naghtaneqed School in the Nemaiah Valley. While he referred to them as "kindergarten" children, higher grades also participated in the Panel process with pride. Taseko asks that the voice of aboriginal youth should be kept out of the Panel process.
Second, the voices of families and elders heard in the video, "Blue Gold", should not be heard either. The film speaks to the connection to place of a people on the brink of devastating change that threatens their way of life and it is a film that is entirely the voices of the Tsilhqot'in people themselves with no voice overs. Taseko says the video is "sensational" and full of "purported facts", further attempting to diminish the knowledge of the people who inhabit this land.
Reaction to this letter has been swift and clear.
TML slammed for offensive attack on Aboriginal participation in Prosperity Mine review
Tsilhqot'in Territory, May 1, 2012: A deeply offensive letter from Taseko Mines Ltd (TML) to the Harper government, urging Environment Minister Kent to impose new limits on First Nations participation and remove key Aboriginal concerns from the review of its rebid Prosperity Mine proposal, raises fears that the company's lobbying could reduce the federal review to a version of British Columbia's weak "rubberstamp" process that approved TML's first, discredited bid.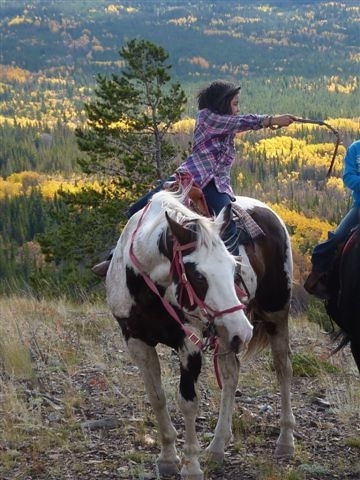 In a recently obtained Nov. 23, 2011 letter to Minister Kent, TML President and CEO Russell Hallbauer urges Minister Kent to:
· Prohibit Aboriginal prayers or ceremonies at the start of Panel hearings – even though this is a matter of basic respect by governments and tribunals when engaging with First Nations;
· Impose new limits on our communities' ability to expressing their views, including those of our youth, whose future is at stake, and by banning videos and other commentaries; and
· Prevent the Panel from considering the spiritual importance of the area to the Tsilhqot'in people, even though this is central to our culture. (Read the entire Press release
HERE
)
Globe and Mail: Taseko Mines Asks Harper to put Limits on First Nations Input
Vancouver Sun: Taseko Plans to Ban Prayers at Meetings
CBC: Taseko Rejects Aboriginal Spirituality in Mine Review
This also links to a radio interview with Bob Simpson, Independent MLA for Cariboo North who released the letter to the media.
The new CEAA Panel will soon be appointed. The fight to stop "New Prosperity" Mine is increasing in strength. It's important to remember that not only was the proposed destruction of Fish Lake/Teztan Biny an important factor in the first refusal, the Panel also found the mine
"would result in significant adverse environmental effects on fish and fish habitat, on navigation, on the current use of lands and resources for traditional purposes by First Nations and on cultural heritage, and on certain potential or established Aboriginal rights or title."
These issues are not resolved by the "new" proposal.
Please remember that FONV is an entirely volunteer organization. We depend on donations from supporters like you. We encourage you to consider becoming a monthly donor - in any amount! Visit our donor page
HERE
and make a one time donation or sign up as a monthly contributor now.
Cheers,
FONV