Fish/Biny Lake Status Update
Opposition and new information continues to surface:
1. Was the B.C. approval influenced by political donations?
"
Political contribution records show that Taseko Mines Ltd suddenly began funding the BC Liberal Party as the province moved towards an environmental review of its Prosperity mine proposal.
"The company pumped $30,150 into BC liberal coffers over a 12 month period starting in late 2008 as the province geared up for an election and moved towards proceeding with an environmental assessment of the proposed mine."
(
TNG Press Release
)
To watch the APTN news coverage of this revelation, see:
http://aptn.ca/pages/news/2010/09/29/donations-swayed-bc-on-prosperity/
2. In 2004, Taseko Lake Lodge, about 10 km away from the proposed mine, was refused permission to expand. Part of that rejection letter reads, "I have decided to disallow your application as there are
specific First Nations issues
within the boundaries of this application concerning traditional and cultural use. In addition, the Ministry of Water, Land and Air Protection have brought forth information that development within the boundaries of
this application would impact fish habitat
including salmon and blue-listed bull trout."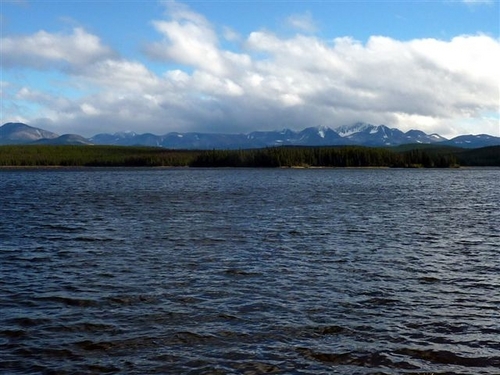 And yet Taseko' s proposal to kill the lake in the face of "specific First Nations issues" and the "impact" (i.e. total elimination) on fish habitat has been allowed to proceed.
In response, Taseko Lake Lodge's owner said, "There is a biased play going on within the government. We were pointedly denied in 2004 because o f First Nations and fish concerns. Six years later they are approving a project that will not only kill…an entire ecosystem, it is entirely opposed by First Nations….It is a rather insane project." (
Globe and Mail
)
3. Liberal M.P. and Environment Critic Gerard Kennedy, "There doesn't seem to be any grounds the federal cabinet could use except simply saying that when it comes to the environment and the economy, the economy wins every time…That is the wrong message to send to Canadians and industry…industry is very capable of coming up with sustainable proposals and we have to tilt things in that direction.
"You have to have some principals…
When the environment has no choice but to lose out and you can't offset it or mitigate it in some way, then the environment has to win.
That is the bottom line here.
"You have an area of claim by First Nations where there is no treaty and that alone should cause things to come to a grinding halt. There has to be respect for Aboriginal rights and the company should know that."
4. And eloquently, from Chief Marilyn Baptiste of Xeni Gwet'in, "What would you do if another country, many times more populous and powerful, decides that it wants Canada's water and, after listening to all the reasons why it cannot not simply take it, announces that it is going to do exactly that?
"Would you refuse to accept the country's justification that its hundreds of millions of people desperately need the water to sustain their economy and that this outweighs any harm that would be done to the relatively small Canadian population that stands in the way? Would you expect your governments to resist? If your answers are yes, then you have an idea of the position of the Tsilhqot'in people.
"……
If the government can sell out the Tsilhqot'in in this case, it can sell out others too – and not just natives. Which is why, if denied justice, we will be forced to act. It is why first nations across the country see this as an issue of national importance. It is also why Canadians have a vested interest in seeing our rights and way of life protected.
(
Globe and Mail
)
In 1995, DFO confirmed that Fish Lake was among the top 10 lakes in B.C. in terms of catch success and they refused to consider its destruction. The photos in this newsletter were taken a week ago. Thanks to Peter and Martyn we enjoyed a delicious meal of trout from this lake.

Please take the time to voice your opposition to the legislated destruction of this lake and others that are now at risk.


Cheers,
Pat Swift
This email address is being protected from spambots. You need JavaScript enabled to view it.
---